---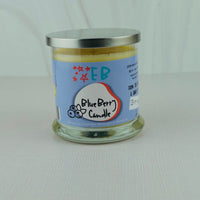 Our hand-poured natural soy wax is a cleaner-burning candle that produces up to 90% less soot than a paraffin wax candle. We use an Eco-friendly wick with natural cotton fibers. No colors or dyes. 
Fill the air around your space with layer after layer of juicy, Summer-ripe blueberries. A limited-edition scent!

All Candles are 100% SOY natural wax, 60 hour burn time and hand poured.